We Keep Us Safe: Building Secure, Just, and Inclusive Communities (MP3 CD)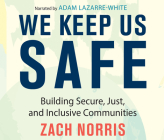 $24.99
Email or call for price.
Description
---
A groundbreaking new vision for public safety that overturns more than 200 years of fear-based discrimination, othering, and punishment In a time when the most powerful institutions in the United States are embracing the repressive and racist systems that keep many communities struggling and in fear, we need to reimagine what safety means. Zach Norris lays out a radical way to shift the conversation about public safety away from fear and punishment and toward growth and support systems for our families and communities. In order to truly be safe, we are going to have to dismantle our mentality of Us vs. Them. By bridging the divides and building relationships with one another, we can dedicate ourselves to strategic, smart investments--meaning resources directed toward our stability and well-being, like healthcare and housing, education and living-wage jobs. This is where real safety begins.